TIKETNONTON.COM. Jakarta– Jack Sherman, mantan gitaris band Red Hot Chili Peppers alias RHCP meninggal dunia. Penyebab kematiannya belum diketahui.
Dikutip dari Mirror.co.uk, pihak keluarga dan kerabat dekatnya hingga saat kini belum memberikan keterangan resmi terkait Jack Sherman yang meninggal di usia 64 tahun.
"Kami dari keluarga RHCP mendoakan agar Jack Sherman berlayar mulus ke dunia luar, karena dia telah meninggal dunia," tulis RHCP memberitahukan mantan personilnya menghembuskan napas terakhir di akun Instagram band.
"Jack bermain di album debut kami, serta tur pertama kami di AS. Dia pria yang unik, dan kami berterima kasih padanya untuk semua hal baik, buruk, dan di antaranya. Kedamaian di platform boogie," demikian pemberitahuan lengkap RHCP.
Jack diyakini meninggal pada 18 Agustus 2020, tetapi kabar itu baru diberitahukan RHCP pada Jumat malam 21 Agustus 2020 waktu Amerika.
Musisi itu bergabung dengan RHCP ketika band asal California tersebut menggarap album debutnya pada 1983. Ia menggantikan gitaris RHCP kala itu, Hillel Slovak.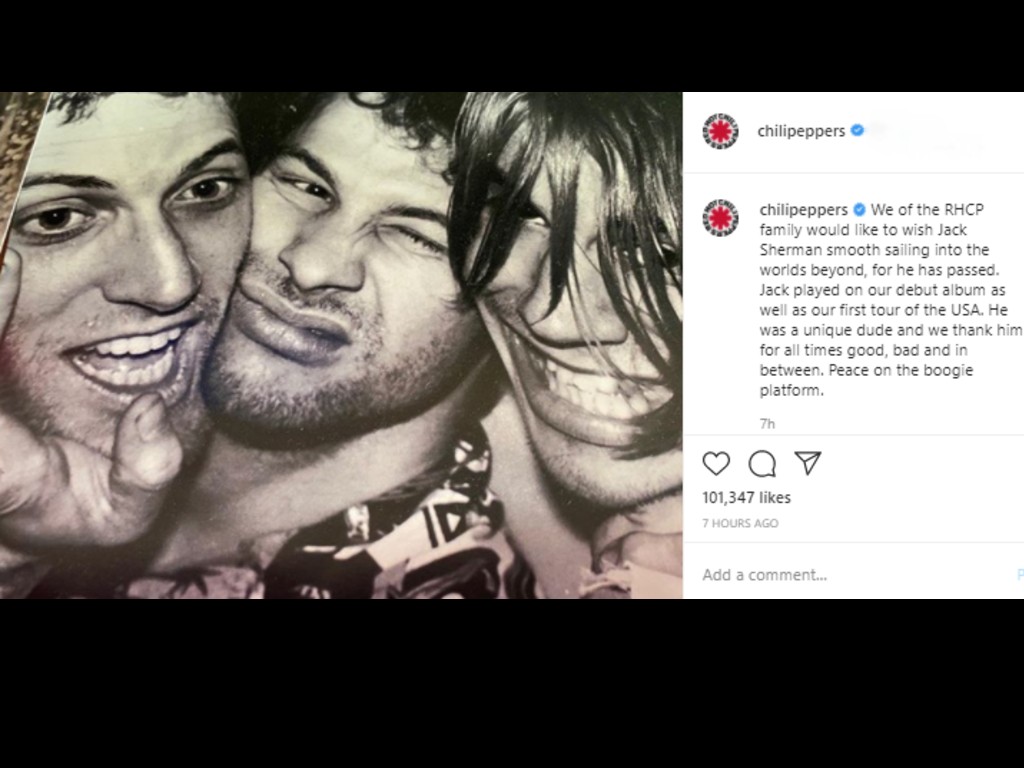 Ucapan duka RHCP mengetahui mantan gitarisnya Jack Sherman meninggal dunia. (Foto: Instagram/chilipeppers)
Menjadi bagian RHCP membuat Jack ikut andil dalam proses pembuatan album kedua band itu. Ia kemudian menulis sebagian besar lagu dalam album Freaky Styley yang rilis pada 1985. Ketika album keluar, Jack digantikan lagi oleh Hillel Slovak.
Namun, Jack masih dilibatkan dalam proses berkarya RHCP saat band yang dipunggawai Anthony Kiedis itu menggarap album Mother's Milk pada 1989, dan mini album Abbey Road.
Dia pria yang unik, dan kami berterima kasih padanya untuk semua hal baik, buruk, dan di antaranya. 
Ketika RHCP ditetapkan dalam Rock & Rall Hall Of Fame pada 2012, Jack tidak dilibatkan. Keputusan itu membuat Jack sempat merasa kecewa. "Saya tidak dihormati, dan itu menyebalkan," katanya kepada Billboard tahun 2012.
Tak kalah mengejutkan, Dave Navarro yang juga sempat menjadi bagian RHCP juga tak diundang mantan bandnya.
Selain sempat berkarya di RHCP, Jack juga turut mengisi gitar dalam album Notes From The Lost Civilization milik Tonio K, dan album Knocked Out Loaded milik Bob Dylan.