Demi BTS dan ARMY, The Empire State di New York Jadi Ungu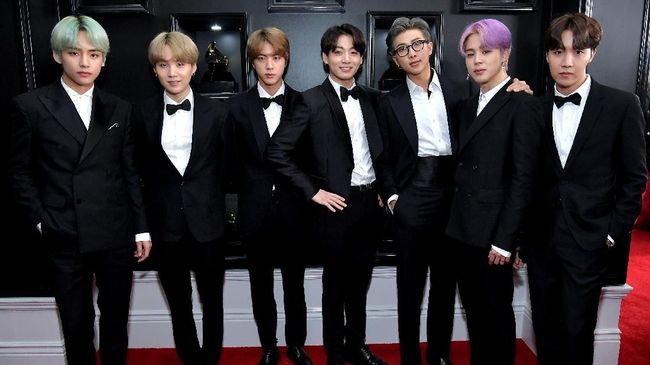 Gedung yang menjadi ikon New York, The Empire State pun menyalakan lampu warna ungu untuk 'menyambut' tamu mereka dari Korsel, BTS. (Neilson Barnard/Getty Images for The Recording Academy/AFP)
Jakarta, CNN Indonesia — Gedung The Empire State yang bertempat di New York 'berkoalisi' dengan grup vokal Korsel BTS pada Rabu (22/5).
Selasa (21/5) waktu setempat, akun Twitter resmi gedung The Empire State mengumumkan bahwa mereka akan menyalakan lampu ungu di puncak bangunan selama lima menit setiap jam sejak matahari terbenam untuk BTS dan penggemarnya, ARMY.
Mereka juga membagikan foto-foto BTS yang berpose di The Empire State yang lebih kecil.
Dilansir dari EOnline, gedung kebanggaan warga New York itu menyalakan lampu ungu untuk menghormati tamu spesial mereka. Sebelum tampil di iHeartRadio Live, RM, J-Hope, Jimin, V, Suga, Jin dan Jungkook terlihat mengunjungi simbol kota itu.
"Kami gembira mengubah @empirestatebldg menjadi ungu malam ini untuk penggemar kami #BTSARMY. Kami mencintai kalian!" tulis BTS di akun Twitter.
Para saksi mata pun turut mengomentari perubahan The Empire State yang tidak akan bertahan lama itu. Akun @softboy_yoongi menulis, "BTS benar-benar mengubah dunia jadi ungu," seraya menyertakan foto yang menampilkan gedung yang selesai dikerjakan pada 1931 itu.
"Saya melihat dengan mata saya sendiri dan itu sangat cantik dan @BTS_twt benar-benar layak mendapatkan dunia dan saya amat, amat sangat mencintai mereka," tulis akun @yoonbummie.
Selain tampil di iHeartRadio LIVE bersama pembawa acara Elvis Duran, BTS juga baru saja menyanyikan 'Boy With Luv' di panggung The Voice edisi final pada 21 Mei lalu. Penampilan tersebut disambut meriah oleh para ARMY yang segera memenuhi kolom komentar YouTube.